New Zealand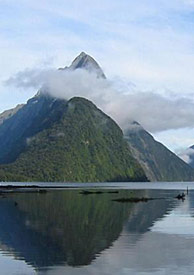 How does a multi-activity, guided adventure vacation in New Zealand sound? Kathy can help you explore New Zealand, and include Fiji, Tahiti, or Asia in on the trip as well.
Let Beckerley Travel help you experience the myriad of bays, coves and inlets of Marlborough sounds. Step back in time and experience the spectacular forests and history that New Zealand's National Parks have to offer.
New Zealand is a country of rare seismic beauty: glacial mountains, fast-flowing rivers, deep, clear lakes, hissing geysers and boiling mud. There are also abundant forest reserves, long, deserted beaches and a variety of fauna, such as the kiwi, endemic to its shores.
Any number of vigorous outdoor activities - tramping (hiking), skiing, rafting and, of course, that perennial favorite, bungy jumping - await the adventurous. You can swim with dolphins, gambol with newborn lambs, whale-watch or fish for fattened trout in the many streams.
The people, bound in a culture that melds European with Maori ancestry, are resourceful, helpful and overwhelmingly friendly.
Beckerley Travel will help make planning your trip hassle free

Call or email to book your trip now. 415.497.0446