Testimonials from Beckerley Travel Clients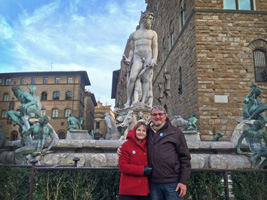 Ciao, Kathy!
There were so many occasions when I sang the praises of your planning and execution. Everything came off without a hitch. Each City was a unique marvel to behold; walking in the footsteps of antiquity in Rome, waking to the sound of the church bells of Sorrento on Christmas morning, arriving in Venice to snowfall, beholding the art and architecture of Florence… so much to behold.
We are most appreciative of the work you did in making our trip a vast success.
Buon Anno,
Skip and Madeleine
Photo: Piazza d. Signoria in Florence
"Kathy at Beckerley Travel is by far the Best travel agent we have ever used"

In our 50+ years of travel, Kathy at Beckerley Travel is by far the best agent we have ever used. Kathy always makes sure we have the right ticket for every part of our trip, which is a big relief. She offers great advice, like the best price on airfare for our large family group. She also handles lots of details we aren't even aware of. (Just try getting this kind of help by yourself online. Impossible!) If you need something changed during your trip, Kathy makes it happen right away. She has even helped us while she was on her own family vacation - now that's customer service! And she really cares, which means the world to us. Thanks from our whole family, Kathy.
Joe and Laura Daly
"The two best vacations we've ever experienced were the first two Kathy arranged"

We've travelled for years around North America and Europe without the services of a travel agent and thought we were pretty good at it. Kathy at Beckerly Travel really showed us how much we were missing! The two best vacations we've ever experienced were the first two Kathy arranged for us: A 10-day cruise of the Eastern Mediterranean with our friends Doug & Cara and an 8-day bus tour of Switzerland. We'd always thought we would hate touring on a bus, but it was fantastic! Always extremely thorough and professional, Kathy always got us the biggest possible bang for our bucks – Kathy will do many more of our vacations from now on!
Jack and Ute Brandon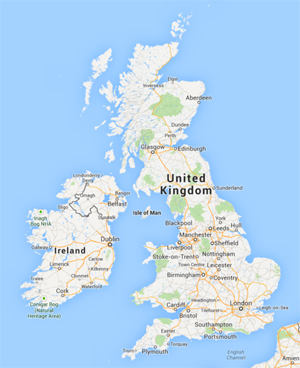 Trip to Ireland, Scotland and England:
My trip to Ireland, Scotland and England was great. Kathy and Beckerley Travel did an excellent job with the airfare and tour with trafalgar. It was memorable and an enjoyable trip first class all the way. Thank you Beckerley Travel.
Father John
Alaska Cruise:
Kathy is so great to work with and I love how thorough she is! She makes planning our trips so easy and fun! We came back from our Alaska Cruise wanting to travel even more!...so get ready Kathy...our bucket list is growing!"
Charis Santillie and Don Wilson

A postcard sent while on their honeymoon:

Dear Kathy,

Stevan and I are having a wonderful time here in Maui. It is so relaxing here and both resorts have far surpassed our expectations. It is going to be hard to come home. Thank you again for planning this amazing honeymoon. It has made the start of our marriage a great beginning. Thank you again!
Stefani and Stevan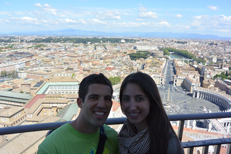 An Italian Honeymoon
My husband and I used Kathy Beckerley's services to plan our honeymoon. We had used Kathy before and we knew she would be able to plan a fun filled trip for the two of us. We decided to do a trip to Europe and visit the countries Malta and Italy. Kathy was very helpful with giving us advice on timing and possible itineraries, and she was also flexible since we had some connections of our own on some of our stops. We had an amazing trip and we are very grateful for all the help!
- Michaela and Ryan


Sent after their trip to Europe:
Kathy,
We are still trying to regroup after our trip. I want to tell you all about it. The arrangements were fantastic. They were close to the train stations, had comfortable and clean rooms, I was happy with my window view of the Matterhorn (for me, Zermatt was the best!) and everything went without a hitch. The only thing we might have done different was that we took the Glacier Express part way, then on to Lake Como; we probably would have taken it all the way and then ended up in St. Moritz and spent the night and gone on to Venice by way of Modena. By the way, Lake Como was very beautiful. More later but for now, thanks for everything; we couldn't have asked or expected more. I hope we didn't drive you crazy but I am so glad you set this up for us; I credit you with providing perfect package that fully met all our needs.
Thank you, Russ Albano
Sent after their Mexican Riviera Cruise
Dear Kathy,
Just wanted to thank you for the great job you did on our cruise. All the special attention we received (Balloons, attention and treats) and the bonus ship credit was all used and appreciated. We are looking forward to booking our next trip with you. Thank you ever so much!
Sarah and Mike Kenyon
Sent after walking tour in Italy
Dear Kathy,
Our trip was so fantastic! Thank you so much for all your expert advice and perfect planning. Every part of the trip was smooth, unstressful and more than I ever dreamed of. The walking tour on The Almalfi Coast was spectacular and just the right amount of hiking each day for us. The accommodations were so comfortable and the food delicious. Touring France by train after the walking tour was easy and all the hotels you chose were convenient to the train stations and safe for 2 women traveling together. I will recommend you to all my friends.
Sincerely, Marcia Phipps


Call or email to book your trip now. 415.497.0446